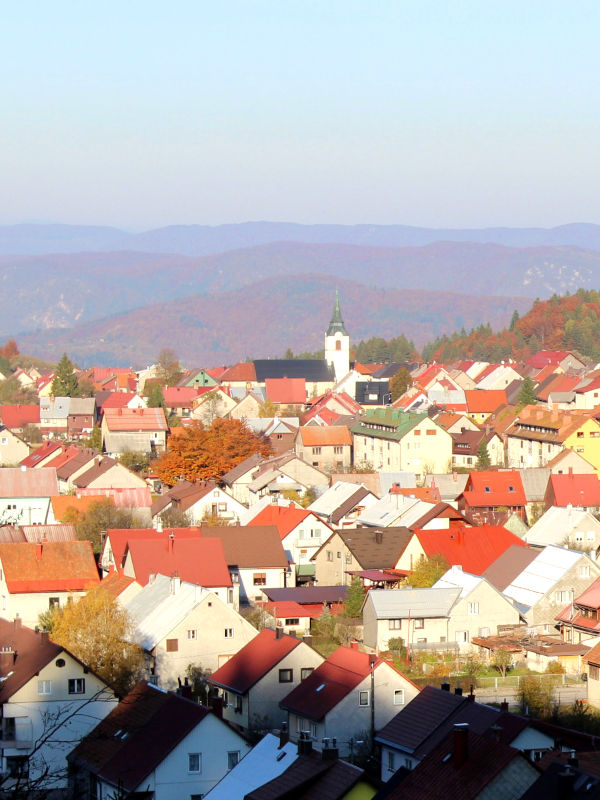 Delnice is a big village in the Gorski Kotar region located at 696m of altitude. Its economy is mainly based on wood processing, but also tourism and recreational activities. Delnice is a popular tourist destination in the Gorski Kotar region, thanks to its mild climate in the summer and mountainous surroundings.
There are several natural geological formations worth seeing (Hiza Hajda, Drgomalj and Petehovac). Nature is a playground here, and is enjoyed all year round by both locals and tourists. The area around Gorski Kotar looks like the Jura Mountains because of the similar landscape and activities that can be practiced here.
Tourism is a centuries-old tradition in Delnice. Hiking, wellness and sports activities, and other types of nature-related tourism are available in the town. The natural karst landscapes sculpted by the water are very popular. In the winter, you can enjoy skiing and other winter sports in the local mountains. In the summer, white water springs from the mountains allow for other activities such as kayaking and other outdoor water sports. This is an ideal way to refresh yourself in the middle of nature during your stay in Croatia.
There are some old buildings, mainly from the 17th century, which bear witness to the previous centuries: the Racki house, the church of St. Ivana and St. Mary or the Zrinski castle.
Delnice can be reached in less than an hour from Rijeka and other seaside towns of the Croatian Riviera in the Kvarner region. Some places can be visited during a day trip from the village, such as the peaks of Gorski Kotar (Drgomalj, Petehovac). This destination is also suitable for a longer vacation. The Paklenica National Park, which is located near Delnice, is a great place for sightseeing and hiking. Visitors who want to spend a few days in the park will be delighted.
Delnice now offers a wide range of tourist facilities, from hotels to sports centers to hunting grounds for rent.
Good to know: Delnice's restaurants are known for their traditional Gorski Kotar culinary specialties, mostly game dishes from hunting.